Construction Photographs Applications

Concrete Contractor.com showcases photos throughout site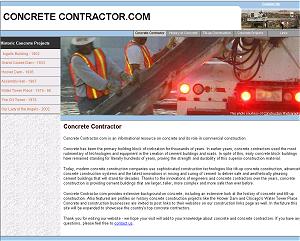 ConcreteContractor.com is a free online publication out of Dallas / Fort Worth, Texas, which provides extensive information on concrete and commercial concrete contractors. Their articles include a history of concrete and tilt-up construction, descriptions of historic concrete construction projects, including the Hoover Dam and the Grand Coulee Dam and the Water Tower Place in Chicago, Illinois.
Concrete Contractor.com employed a site layout which used large photographs that span the width of each page's content area. The original images from which the span photos were cropped had to be extremely large, so that the cropped portion would still extend the full width of the page, even when viewed at higher resolutions.
Construction Photographs pictures worked perfectly for this application. The 3000 pixel-wide images could be cropped and resized such that the resulting span pictures extend the width of the page's content area up to 1280 x 1024 resolution. Because of the large selection of pictures at Construction Photographs, Concrete Contractor.com was able to find a variety of photos for their pages without having to repeat images. To ensure they followed the user guidelines, Concrete Contractor.com put the photo credit in an unobtrusive link directly under and to the right of each span photo.
ConcreteContractor.com is an excellent example of a demanding online application for our photos. Finding free stock photographs can be difficult, but finding free stock photographs that are large enough to provide cropped images that are STILL more than 1000 pixels wide . . . high resolution is just one our pictures' features that makes Construction Photographs unique!